Eggnog show! Pilk show! Despite half of the hosts having some "intestinal irritability", we press on with the annual tradition. Andy and Sauce got 3d printers. Space Karen Sucks. World Cup talk. The police officer filming porn while on duty. The woman charged with stealing 100k watch from men she would meet in Vegas. Newspaper posting your Festivus complaints. Rob reviews Avatar 2. Smucker's is going after another company making Uncrustables. Plaid.  The UFO abduction movie being produced by the Obamas. Does the UFC have a farm team problem? One of the oldest and most brutal spots on earth exists in Italy. What is "bagpiping"? A girlfriend of a listener turns herself in to the Fart Police. The worst Eggnog song ever. More!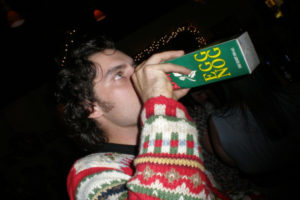 Intro: Redwarf
Outro:  Winter – Carrying Goodness
Be sure and join us LIVE, you can listen and chat with us. We normally record Saturday 7pm Pacific/10pm Eastern on Twitch.
If you'd like to help the show hit the "Support The Show" tab on the website and click through our link when you make Amazon purchases, or click the "T-Shirt" tab and buy a shirt. We thank you so much for your support.
Email: Ventchat@gmail.com
Snail Mail: P.O. Box 6654 Concord CA, 94520
Phone: 925-246-CHAT 925-246-2428 or Ventchat on Skype
Twitter: @Ventchat_Esta @Ventchat (for Fen) @OverdoseOfSauce @Turdhat2 @XNotMalcolm @andy_dawson