Brent got Lasik and you'll hate it. The adult happy meal. The fishing contest scandal that almost started a riot. Uncle Rodger solves Esta's nut allergy. Cake Chomper update. Someone ate Kevin Bacon. Rob reviews Andor ep 1-4. The police are called. Don't eat vegetables. The Amazon driver delivering in a hurricane. The app that tracks your "personal habits" and sends a report to your accountability partner. The Musk robot is out. Bill Gapes wants to make you allergic to beef. Plaid. A man that couldn't give up hating his ex wife after 40 years. Skin is the largest organ of the body. American Airlines thinks you're stupid. The woman who's dog had an accident in her mouth while she slept, and it put her in the hospital. MORE!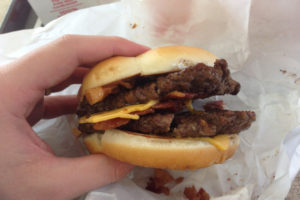 Intro: Redwarf
Outro:  Everything's Fine (Nuke Song) by Roe Kapara
Be sure and join us LIVE, you can listen and chat with us. We normally record Saturday 7pm Pacific/10pm Eastern on Twitch.
If you'd like to help the show hit the "Support The Show" tab on the website and click through our link when you make Amazon purchases, or click the "T-Shirt" tab and buy a shirt. We thank you so much for your support.
Email: Ventchat@gmail.com
Snail Mail: P.O. Box 6654 Concord CA, 94520
Phone: 925-246-CHAT 925-246-2428 or Ventchat on Skype
Twitter: @Ventchat_Esta @Ventchat (for Fen) @OverdoseOfSauce @Turdhat2 @XNotMalcolm @andy_dawson