Esta's BIRTHDAY! We surprised our special boy with a show all about him, with some secret moments I won't ruin for you. And yes, we DID play OBSESTA. Also, does Uber/Lyft stink? A guy with a "special" sign on his truck who refuses to change it. High school pranks. Plaid for Bryter. Boston update. Man attacked with an axe, and that's the normal part. Feet. Alligators in pants. Make Turdhat Laugh. MORE!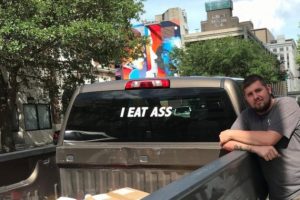 Intro:  Redwarf
Outro: Dengle!
Be sure and join us LIVE, you can listen and chat with us. We normally record Saturday 9pm Pacific/Midnight Eastern on Twitch.
If you'd like to help the show hit the "Support The Show" tab on the website and click through our link when you make Amazon purchases, or click the "T-Shirt" tab and buy a shirt. We thank you so much for your support.
Email: Ventchat@gmail.com
Snail Mail:  P.O. Box 6654 Concord CA, 94520
Phone: 925-246-CHAT 925-246-2428 or Ventchat on Skype
Twitter: @Ventchat_Esta @Ventchat (for Fen) @OverdoseOfSauce @Turdhat2